Manos Zapotecas | Gloria Tote | Turquoise + Ruby Gloria
The Manos Zapotecas Turquoise + Ruby Gloria tote pattern features Zapotec diamond, agave and lightning designs in ruby red and turquoise blue on beige wool.
Free Pickup
Ready within the next 24 hours (call 406-587-2153 to confirm).
This tote is just the right size to become your everyday bag. Run your errands, go for a night out or just pack a good book and a flask of tea. This tote will take you effortlessly from day to night while keeping you smart and stylish. 
Made by MZ Fair Trade

The purpose of MZ is to perpetuate the culture and traditions of artisans in Oaxaca, Mexico by connecting them with socially conscious consumers around the globe. MZ strives to make a positive impact by nurturing lasting relationships and always abiding by fair trade principles.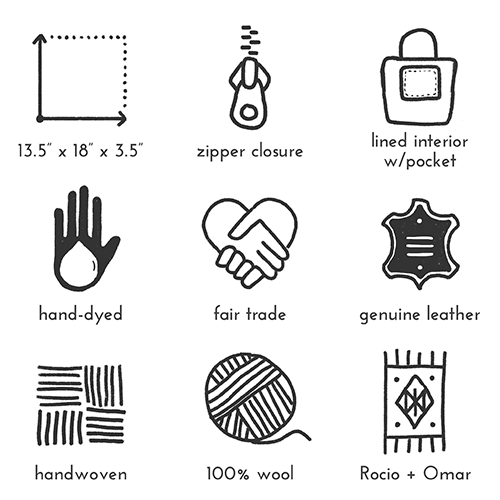 0
stars based on
0
reviews